Achieve the Weight Loss Results You Want and Deserve
For thousands of North Americans burning extra calories is a struggle. It's why you may begin to consider drastic solutions to get results – fad diets, pills, surgery or those weird fitness gadgets on infomercials that promise rapid results. Many of these solutions sound too good to be true…can you really have rapid weight loss results?
The Good – Stable weight loss results are possible. They can even be sensible given the right program. (click here to discover a weight loss method with over 10 years of success – Ideal Protein)
The Bad – Rapid weight loss will not lead to long term successful weight management without a balanced lifestyle education and your commitment to better well being. (Call now to unlock the secret to Ideal Protein's post diet weight stabilization – 306-596-6569)
The Ugly – You risk regaining your lost weight if you lose muscle while dieting and don't have the knowledge to develop better eating habits and smarter lifestyle choices after dieting (contact a Smart Health Solutions, LLC representative now and begin your weight management education)
Personalized Weight Loss Coaching is Only a Phone Call Away
Pick up the phone and give us a call 306-596-6569, we'll help you to achieve your weight loss goals and teach you to live at a stable weight!
Leslie Genoway
Leslie Genoway was born and raised in Regina, she is a graduate of the University of Regina with a Degree in Kinesiology, a Certified Strength and Conditioning Specialist (CSCS) with the National Strength and Conditioning Association (NSCA), a Personal Trainer Specialist (PTS) with Can-Fit-Pro and an NCCP Certified Coach.
Once an elite athlete, Leslie continues to maintain a high level of personal fitness as she trains daily, and participates in recreational sports such as ultimate frisbee, water polo, swimming, biking, hiking, and golf.
Leslie has been committed to the health, fitness and athletic training industry in Regina for the previous 10 years. Her experience includes the lead for various fitness training groups, individual personal training, injury rehabilitation exercise therapy, sport specific "prehab" for individuals and teams, strength and conditioning training regimens for the development of elite athletes and sports teams.
Leslie believes that physical fitness is a critical component to maintaining great health and to attaining optimum performance in every area of our lives, whatever our goals and endeavours might be.
"I have recently experienced and learned about the many advantages of the Ideal Protein protocol. I'm happy to share the protocol with others by becoming an Ideal Protein coach and by owning my own Ideal Protein Centre – LG Ideal Vitality ."
"The best part of my day is helping others set and reach their health and fitness goals, and being a part of the amazing positive transformation that occurs along the way."
Erin Genoway
Erin Genoway, is an Ideal Protein coach, clinic owner and manager.
Erin found it easy to lose 30 lbs following the Ideal Protein protocol and is enjoying the post diet Ideal Protein maintenance phase while at the same time she is experiencing new vitality. Realizing that weight loss was important to have the extra energy required to enjoy life to the fullest with loved ones and to serve her community. Erin feels that it's important to share the Ideal Protein Protocol with others.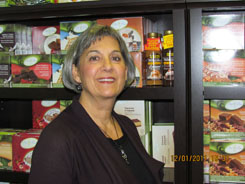 Erin has a desire to make a difference one person at a time and she believes that weight loss is more than just looking good, it's about feeling good inside and out. It's about learning all the things that each dieter will learn along their own Ideal Protein wellness journey.
Erin is eager to meet with you and to help you with your own weight loss and wellness goals.
Pick up the phone and give us a call Leslie Genoway (306) 581-9556 or Erin Genoway (306) 596-6569, we'll help you to achieve your ideal body weight and bring out your inner confidence!
Our medically developed weight loss protocol and smarter lifestyle choices education offers dieters what they really want…a structured program that can put an end to constant dieting.
Business Hours
Monday to Friday:
10:00 AM to 1:30 PM  4:00 to 8:00 PM
Saturday:
9:30 AM to 12:30 PM

Many Other times are Also Available by appointment.  
LG Fitness inc is Authorized to Use the Ideal Protein Weight Loss Protocol and Products. The testimonials on this website are those of the individual that is identified, you should not necessarily expect to receive these results. Typical results vary from person to person and individual to individual when the Ideal Protein Weight Loss Protocol is followed properly. You should consult your physician or other health care professional before starting this or any other diet program to determine if it is right for your needs.
1560 McCara Street, Suite C Regina SK S4N6C5 – Phone: 306-596-6569
Copyright © 2017 Ideal Protein All rights reserved.